Explore Prishtina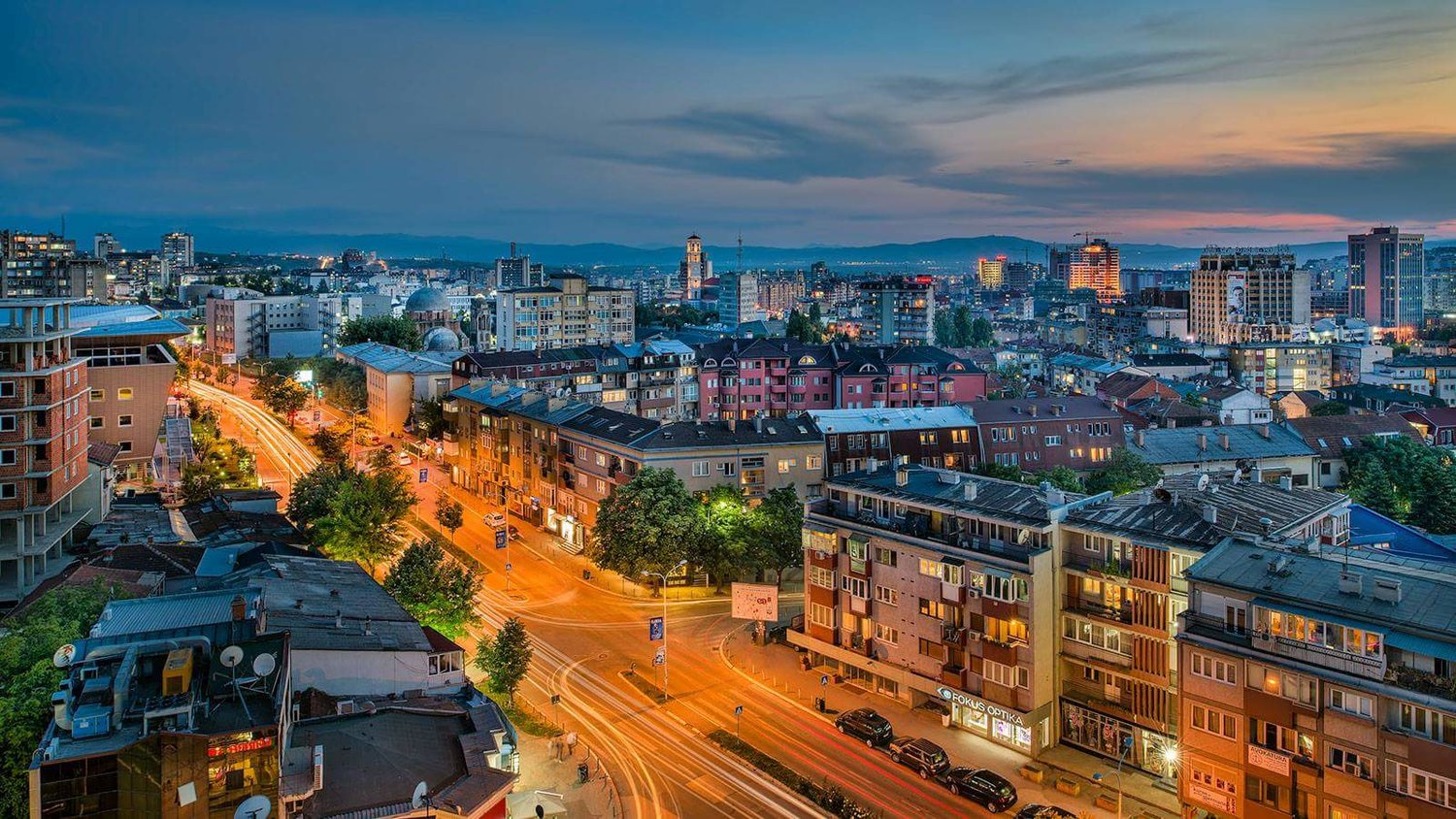 What to See and Do After breakfast, take a walk through Pristina, exploring its main attractions in the city centre and surroundings including the Mother Teresa Boulevard, the monument of Scanderbeg (Albanian National Hero), the Clock Tower, Kosovo Government buildings and the 'New Born' monument which is becoming the symbol of this new state. Of particular interest are the Ottoman period mosques of Prishtina with probably the most beautiful, being the Fatih Mosque dating back to 1461 during the golden era of Sultan Mehmet II. Its huge ceiling domed cupola crowns a splendidly painted floral interior of Arabesque design. Where to Stay

The most obviously unusual element is the general appearance of this massive Kosovar structure. While so many libraries work to bring people inside, Pristina's public library resembles a giant prison, hardly an appealing image to promote literacy.
This building was completed in 1986.Despite many people calling the building one of the ugliest in the nation, it is certainly a unique architectural effort, and captures the spirit of a country recently ravaged by war, and working to move forward and rebuild.
Inside, there are more than 2 million library items, including rare materials such as books, newspapers, manuscripts, maps and photographs. There are two reading rooms, an amphitheater and a meeting hall. It has been used by Croatian and Bosnian refugees as living quarters and by the Serbian Army as a command center, during which many historical books were destroyed. The library is open to visitors, but guests should bring identification, like a passport.

This pretty ochre-painted villa housing the Kosovo Museum was built by Austrians for the Turkish army in 1898, and was used by the Yugoslav national army until 1975. The museum used to have a rich collection of prehistoric objects uncovered in Kosovo – these were all spirited off to Belgrade just before the troubles started in 1998, and hundreds of archeological finds and ethnographic items yet have to be returned.
The extensive permanent archaeology exhibition details life in the region in the Illyrian, Dardanian and Roman periods with excellent English-language texts, all accompanied by Philip Glass minimal music. Centre stage is the 6000 year old statue, found at Tjerrtorja in 1956 and returned to Pristina in 2002.
In front of the building recent history is represented by some artillery hardware, while two large Jewish gravestones remind of another recent exodus drama.

Hidden away in Pristina's Old Town, the Ethnological Museum is a must-see for visitors to Kosovo's capital. The museum is housed in the 18th century Emin Gjiku Complex, which once belonged to a local nobleman by the same name. After Gjiku and his family were expelled from Kosovo in the 1950s, the complex was initially a biology museum, eventually opening as the Ethnological Museum in 2006.]
The Ethnological Museum is an annex of the Museum of Kosovo and is just a five-minute walk from the main museum; look for signs pointing in the right direction. The complex itself is set in a walled courtyard off the main street. It is easily reached on foot or a short taxi ride from much of central Pristina.
Other places to visit in Prishtina
Mother Teresa Boulevard
Kosovo Government Buildings
Germia Park
The Cathedral of Saint Mother Teresa
New Born Monument
The Clock Tower
The Monument Of Scanderbeg
Fatih Mosque